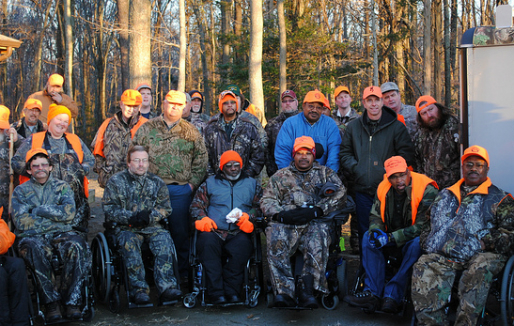 John was wounded by an IED while serving in Afghanistan.  Upon returning home, he began to adapt to life without a limb.  When the fall season arrived, he realized that deer hunting was probably out of the question, but he decided to go the range and shoot in his rifle anyway.  Upon arriving at the range, he realized that moving around in a wheelchair was rather difficult due to the graveled walkways.  When he needed to use a restroom he found that there were steps leading into the building where the restrooms were located that prohibited him from entering.
John's story is not uncommon.  It is representative of just one of the scenarios our wounded veterans face as they return home and to the normality of civilian life only now with a disability.  Through the efforts of organizations like Access Advocates, these kinds of stories can have a happy ending.
In an effort to support disabled veterans returning home, hunters and sportsman who have suffered disabling injuries and those who are interested in learning or participating in the shooting sports, the International  Defensive Pistol Association "welcomed 27 military veterans, including wounded warriors and disabled shooters, to compete in this year's match.  Team Smith & Wesson member and adaptive athlete Trevor Baucom was once again seen making his way through the 12 challenging stages of fire. The proactive steps taken by the IDPA and Smith & Wesson for greater involvement of disabled shooters in competitive matches have allowed the shooting industry to further extend its welcome to all competitors. A sport based with roots in concealed carry, Baucom opted to compete with an M&P Shield in 9mm in the match, marking the first time the compact 9mm has been used at the IDPA Indoor Nationals."
As accessibility compliance is expanding it's focus, more and more industries are complying with federal mandates to provide accessibility including the sporting and hunting industry.  There has been a tremendous increase in adaptive equipment used for hunting, shooting, and other sports.  Ranges, gyms, and workout facilities are working proactively with organizations like Access Advocates to provide safe and adequate opportunities for those needing adaptation and are welcoming those with injuries or other life altering cirumstances. Due to their involvement and advocacy for those seeking accessibility, the playing field is leveling for those with challenges that have limited them in the past.
If you are disabled and have experienced limited access, contact us today and let us help.
Photo courtesy of Flickr user vastateparksstaff